Trails
To give you a flavour of one of Spain's most exciting mountain adventures you'll ever experience on a bike, these rocky mountains offer a selection of the best mountainous and technically demanding trails ever. We've handpicked these trails to boost your confidence, crown you more technically advanced and give you the buzz you've been looking for. There's so many trails here, whatever your level, you'll be itching to come back for more!
Do we have the right trails for you?
From entry level flow trails with stunning scenery, through world elite extreme downhill trails, we have everything within a 1 hour drive from our doorstep. 90% of the trails are within just a 20 minute drive from our HQ.
Entry level MTB riders
We know more than anyone that trails can be intimidating and scary. Especially if you're new to the MTB scene. Here at BooM, we like to think of ourselves as specialists in ensuring EVERYONE has a good time and goes home knowing a little more about MTB riding than they did prior to arriving. We will cater for your specific needs and wants during your stay at BooM. Who knows, maybe you fancy a day at the beach in between riding days too maximise recovery and soak up the Spanish sunshine. We can also help you with other activities such as hiking, watersports, climing and more.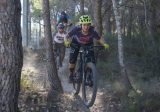 Flow heaven
We believe the trail type known as 'flow' began here! Our flow trail is used most days as a warm up, but we often shuttle on this trail for hours on end as we love to ride it when the hands need a rest from the rocks!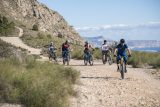 E-Bike circulars
At BooM, we love E-bikes and Ben uses 5 circular routes from our HQ without the need for a shuttle as part of his training. These circular routes are designed to be completed on E-Bikes with 504Wh batteries, so we know you can afford to use a little more boost mode and enjoy the routes if you have a bigger battery.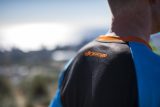 Downhill
Probably the most loved and used trails at BooM! After all, most of our guests loves shuttling up, then flying down. Our 4 hand picked specific downhill tracks range from medium difficulty through to world elite standard. Ben regularly uses these tracks to test upcoming Orange Bikes models and specific race set ups before heading off to his races.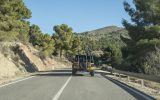 Enduro epic
Do you want to earn your decents? If so, why not head out on oone of our epic enduro loops. These can be extended up to 50km and take in some of the most breathtaking views of the Costa Blanca. On a clear day, you'll be able to see over the Mediterranean Sea all the way to the mountains on Ibiza. Our shuttle is always at the ready so why not try one of these loops and give us a shout if you've had enough and need a lift.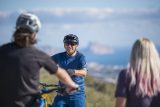 Expert guide recommendation
Our lead Guide Emiel has years of experience in the MTB world and knows our trails better than anyone else. Why not let him advise the best routes and riding days based on your ability and desires? He'll be able to quickly decide what's best for you after a run down our flow trail before coffee o'clock.